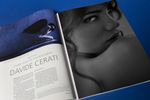 DAVIDE CERATI SU KAMERA FINLAND
Il magazine di fotografia finlandese
Kamera pubblica un articolo su Davide
Cerati nel suo numero di Dicembre.
<  Le foto sul blog: click sull'immagine.

The international jury of FEP, Federation of European Photographers, on December 5-6 in Brussels awarded the MASTER QEP title to DAVIDE CERATI. This is the higher qualification FEP award. They are only 24 photographers, from 12 nations, with this                                    prestigious title, conferred from 1999 to 2009.

Su FOTOGRAPHIA di Luglio 2010, la mostra "Photographes portraitistes italiens", curata da Davide Cerati e Adriano Scognamillo
Calendario 2012 "Ritmi"
12 + 1 fotografie di Davide Cerati

f.to 48x68

stampato come si deve su cartoncino in fibra 
di pura cellulosa vergine ECF, pH neutro.

in 300 copie, di cui 100 firmate in vendita a 40 euro + spese di spedizione


disponibile
spedizione in 3-5 giorni1